Let's talk about cultural differences today. I'm going to spend this blog on small items of note and a few observations. Some of it similar to the culture we are used to being part of in North America.
Some of it is a derivative of the Spanish influence and, while I am no expert, some of it peculiar to Costa Rica.
Language
Be aware that Costa Rica has words and terms that are derived from the king's Spanish. Some of these words are common to the Spanish language of Central and/or South America. Many terms are used only in Costa Rica or even limited to regions of this small country. I'm not giving a Spanish lesson here, but be aware that there are language differences used by Ticos in Costa Rica.
However, your attempts to make yourself understood in Spanish will not fall on deaf ears. If you are on friendly enough terms with native speakers they will begin to correct your
misconjugations,
mispronunciations,
or the outright misuse of local Spanish out of respect and friendship.
I take these occasions as a form of being accepted. (Between English and Spanish there are many, many words of similar origin, meaning, and spelling).
My biggest problem in this regard is mispronunciation. Unlike English, I forget that it is usually the next to the last syllable that gets the emphasis in Spanish. Missing this step leads me to often not be understood. The best basic rule I have learned is that virtually all regular verbs, whether ending in "ir", "ar" or "er" end in "o" when used in first person present tense and the word for "I", "yo", is usually dropped in everyday conversation.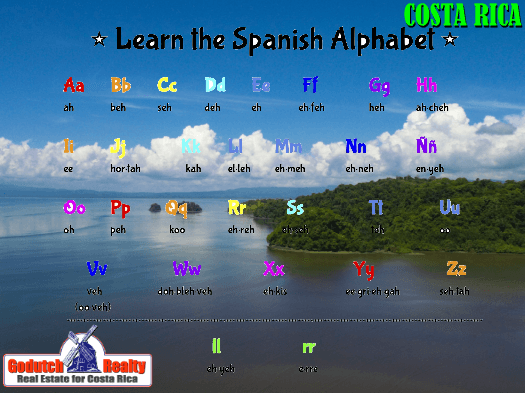 Bureaucracy
Also, be very much aware the there is a well-entrenched bureaucracy in Costa Rica. This is where you will hate the cultural differences most. My observation is Costa Ricans either like or are very used to a systematic routine. Frankly, some of which is associated with absolutely no logic. A recent case in point: I went to the ATM. Then, for whatever reason, after I got my money and receipt, the machine ate my Visa debit card. Well, into the bank I go. But, of course, after the required security frisk by the security officer who saw me emerge from the "cajero automatico". Then, take a number and wait my turn to be called to one of the "bank attendants".
My number is called and I take a seat in front of the attendant. I then explain my circumstance, describe my missing card, present my minutes-old ATM receipt, my U.S. photo ID driver's license and a copy of my passport. The general advice here is to leave your passport in a safe place and carry only a color copy of the photo-number page and the page with the current, valid visa stamp with you.
The attendant leaves with these goodies only to return to inform me that my actual passport is required in order to return my ATM card to me. Now, common sense says that I am the only one claiming the ATM card in question and that I am THE owner of the card.
Almost there
However, it required a trip home for my passport and a repeat of the entire process. Plus my signature had to be added to the "book of ATM-eaten debit cards." Thankfully, I was in my town of residence and only a few miles from home. Not somewhere far away.
Don't get me wrong, I have really grown to love this country and its people, but there are cultural differences that take some patience and getting used to.
Food
Costa Rican cuisine, well, for the most part, it doesn't exist on its own. It's mostly borrowed. The national dish, the casado, is literally the marriage of mostly rice and beans. In some similar variation, is the mainstay of many Central American nations including Costa Rica. The land offers its edible resources to Costa Rica and Ticos consume it but without a great deal of creativity. Suffice it to say, there are no famous cooking schools located here.
However, there is some really great food. It's usually just the specialty of another nationality. I think many citizens are too busy surviving to spend a great deal of time whipping up original gourmet dishes.
It may also be the reason that some spices, seasonings, and other ingredients are hard to find. This is where I find one of the biggest cultural differences. There just isn't a great deal of demand. You will find some fine restaurants even in the smaller towns. Most often, you should not expect fancy. Except in locations catering to resident gringos and tourists. However, do expect some well-prepared offerings. Seafood, usually including tilapia and shrimp, is plentiful and I have had some very nice meals out featuring seafood.
Coffee
Costa Rica is famous for its Arabica coffees, but it has been hard to get premium grade coffee here. That's because most of the best grades of beans are exported.
Well, that recently changed as we have our own Starbucks now. For about 1 ½ times the price you pay for it in the States, you can get any of Starbuck's specialties made from Costa Rican coffee beans shipped to the U.S. and returned here packaged with the familiar green "mermaid." Just a little absurd, when you think about it, but the place is always busy.
A sad note, many of the plantations producing the finest coffees grown here in Costa Rica are threatened by the coffee rust disease or "Roya" as it is called here. This dreaded plague is devastating much of the coffee industry throughout Central America and parts of South America. You can expect to see the price of a good cup of coffee headed up in the near future.
Commercialism
Commercialism is alive and well here in Costa Rica. When we arrived, both the resident gringos and the locals told us that Easter Week or Semana Santa was much bigger than Christmas in Costa Rica. And that may be true.  But mid-September rolled around and out came the Christmas displays, ornaments, and toys—lots and lots of toys. The Easter holidays may be bigger here than Christmas, but maybe not much longer. If the chains and local merchants have their way, Christmas will be king just as it is in Europe and North America.
Once you move to Costa Rica and have settled, you will for sure find more cultural differences than I have mentioned. In Ivo's blog and you'll find plenty more cultural differences in the culture shock segment.
The Author
The author of this blog, Ticonuevo, is a US expat who moved to Costa Rica. He and his wife used the services of GoDutch Realty to purchase a property in Costa Rica. In his blogs, Ticonuevo describes his own experiences of taking the step of moving to Costa Rica and getting a new life started.