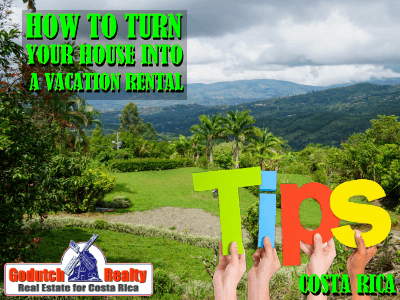 In this blog, and another one next week, I will provide some tips to turn your house into a successful vacation rental.
These tips may assist you to increase your success rate if your intent is to purchase a property to rent out part or all of the time. This is based on my own specific experience.
I first purchased a vacation house and small acreage in Costa Rica. We visit for a couple of weeks once or twice a year, and otherwise make available to rent.
Therefore, it is not meant to be an all-inclusive vacation rental. Some of these tips may overlap. But for completeness, I will include them all (in no particular order of importance). Today, I'll publish the first three that I came up with and will do the rest next week.
1.    Make contacts with Ticos
Don't restrict yourself to the expat community where your vacation rental is located. On our last visit, my wife and I arrived at our house to find that the water was not working. I had no idea what the problem was. As we pondered the situation, the guard from the guard-house arrived on his 4-wheeler, since he had been told we came through the gate. He wanted to come and greet us. (Keep in mind this was on a Saturday, as I relate the rest of the story).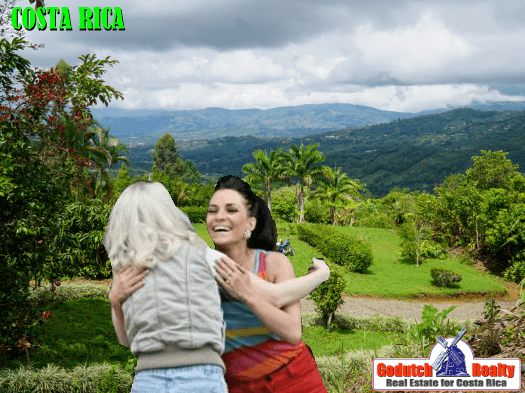 I don't speak Spanish (see point #2.) but was able to communicate our problem. He spent the next couple of hours with us, trying to find what the problem was. This included walking a mile down a hill through waist-high grass, to the stream where our water is drawn from, and back up the hill, to check our water source which was "no problema".
Then he made a couple of phone calls…
To keep this story short, our problem was a bad part of the electronic system of the pump. To fix this, a part had to be ordered from a supplier in a town 40 miles away. By the next day (Sunday!), a very knowledgeable person from the supplier had made two round trips, brought the part, and fixed our problem, and at a very reasonable cost.
I could tell other stories about the extraordinary lengths the locals have gone to in order to help us out of a jam. But this will serve to illustrate my point… Go out of your way to meet and make friends with the locals in your vacation rental community; it will pay dividends in the long run.
2.    Work on learning Spanish
This, of course, ties in with the previous tip. It is almost impossible to do one without the other.
My approach is to keep a cheat sheet with me, containing a list of common words. For example, know the questioning words – when, where, why, who and how, and the responses to these questions. In connection with "where", know the words for "here", "there", "house", "town", etc. Also, it's amazing how many Spanish words you likely already know – "casa", "lago", "rio", "dias", etc.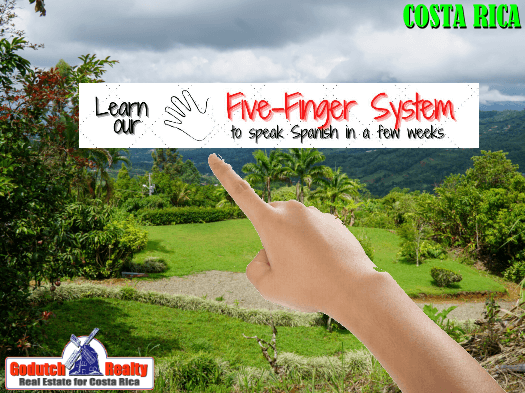 One final tip is to use a translator app on your cellphone. I have carried on great conversations by this method when the topic becomes too complex for my limited vocabulary. And both parties were very pleased to be able to break the communication barrier in this manner.
3.    Set up your team
I don't travel to Costa Rica often (maybe twice a year), so it is important to be able to depend on trustworthy folks locally.
In my case, I have a truly remarkable team, including a housekeeper. She sets up our vacation rental for the arrival of renters and cleans up afterward. And I also have a gardener/minor repairman (the guard in the gatehouse, mentioned above).
Just by luck, I made friends with a local, who later turned out to be the contractor who built most of the homes in our development. He has been quite willing to help us out when needed. This includes leaving his workers on a construction site to drive to our house in the middle of the day to check out a problem I am having. This, even though I let him know the "problema" is not urgent, and I don't expect him to come right away – he does anyway.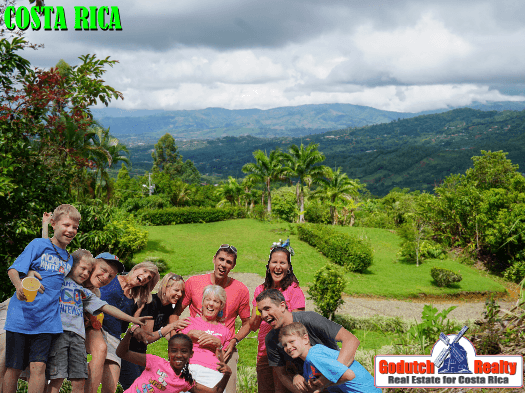 I try to compensate my team well for their work on my vacation rental, but it is still not a lot by North American standards. We pay our housekeeper $3 per hour; the gardener works for several folks in the development one or two days a week. He was busy for 5 days. But he indicated that he would be willing to work for me a sixth day, for which I pay him $100 per month.
I consider this a great deal, to have him basically on call, right on the property. One of my renters found that a toilet didn't flush when they arrived. So I contacted my gardener/handyman, and the problem was resolved the same day – for which the renters were very impressed and grateful.
If you have difficulty building your team, you might contact your real estate agent for assistance. They would normally have useful contacts and be willing to assist you.
Next week, I'll publish part two of this blog.

The Author
I have named this author John Doe, as he doesn't want the people in his community to know who he is. John bought a property from an International Living real estate developer. When assisting in a Cancun International Living Conference, while washing my hands in the men's room, John asked me "are you Ivo? I always read your blogs". So I asked John to write a couple for us. These two blogs and two others are the results of our conversation then. Thanks, John!