Estimated Reading Time: 6 Minutes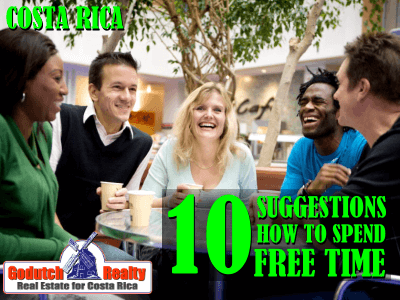 What to do with your free time when living in Costa Rica? Have you arrived without a job, without a mission, or without a business to found? Then that probably makes you a retiree of whatever age.
Also, those who do have a job, or run a business, will have some free time on their hands.
Fortunately, there is a lot to do in Costa Rica, when you have free time.
I have some interesting idea for you to do with your free time, once you have tired of the things that everyone does:
Shopping trips to Escazu,
Visits to the Pacific and Atlantic coasts,
Treks through the national forests,
Botanical and butterfly gardens,
Bus trips to San Jose's museums,
Daily excursions into the countryside,
Visit any of the many volcanoes.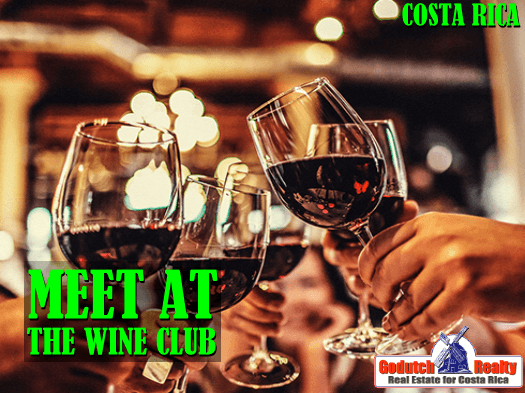 You may decide that you want to be productive, better informed, entertained, and/or rewarded with some of your time by spending your free time on the following 10 suggestions:
1. Meeting folks
You'll become pretty unhappy in a hurry if you don't have some level of social interaction. In nearly every local region of San Jose and the Central Valley, there is a multitude of ex-pat women's groups that meet regularly. You could consult one of your newly found lady friends. They may personally invite you to a get-together. For women, there is The Women's Club of Costa Rica (WCCR), and the newcomer's club for women. Sorry guys!
2. Veterans
When you're a veteran, you usually have a lot of free time. There are a number of VFW posts (and, yes, I realize you lady veterans can join as well).  I'll bet there are other guy groups you'll run across with only a little effort.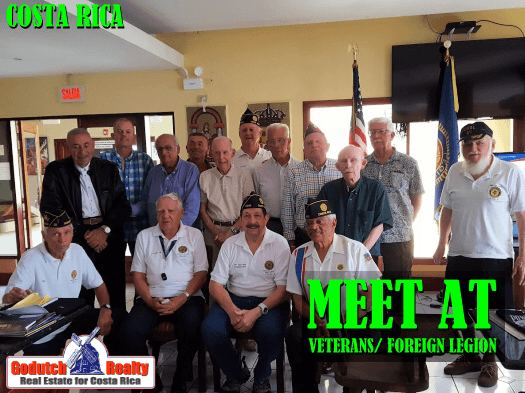 3. Church
There are a number of English-speaking and multi-lingual independent and denomination-affiliated churches. Some churches split services into both Spanish and English. They are always involved in community projects.
4. Clubs
For couples and singles of either gender, we've found ex-pats have formed local clubs. There are wine clubs, dinner clubs, political party clubs, and a personal computer club that meets in Belen. San Jose also the Little Theater Group.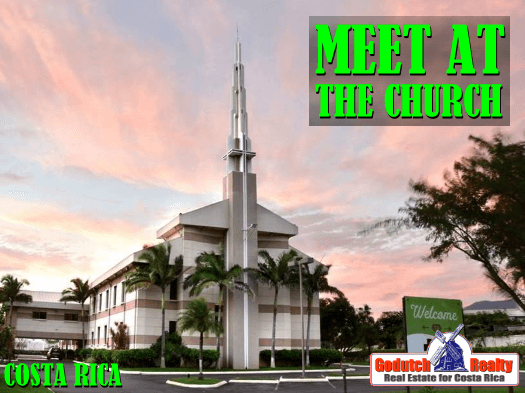 5. AA
If you're a practicing or recovering alcoholic, there is no shortage of AA chapters throughout all of Costa Rica.
6. Learning-teaching the language
There are social groups and clubs dedicated to helping ex-pats learn the Spanish language and/or help Ticos to learn the English language or both. They are what I would describe as social immersion groups that serve wine and/or dinner. A rather civilized approach if you ask me.
Many ex-pat folks also seem to have found paying or volunteer positions teaching English to Ticos and Ticas. It may be something you might want to consider.
7. Volunteering
We haven't been here long, but we came here with a goal to be able to give something back to the community. Right away we became aware of a number of pet rescue groups. Keeping dogs as pets is a relatively new concept. But it is really catching on quickly. There is no shortage of strays, here called "street dogs." Plenty of dog owners have had to give up their loyal and faithful Fido for any number of reasons when moving here.
Pets
There is no shortage of need for pet foster homes or volunteers to attend. Shopping centers and ferias usually have a large display of adoptable pets, whether the canines are street dogs or house-broken ex pets (pardon the pun). There are pet rescue groups that also include our feline friends.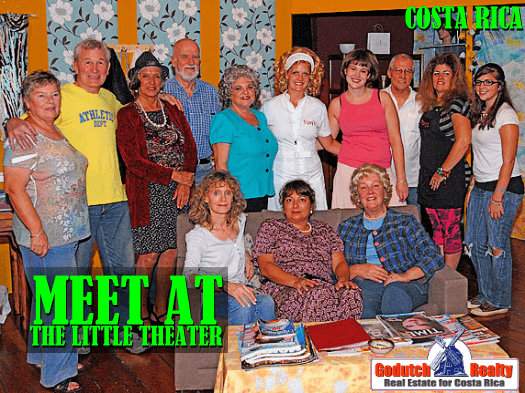 Orphans and Elderly
On the humane and human level, almost every large town has a "hogar" (home) for the elderly, orphans, and foster children. They are great causes with a tremendous need to generate donations and revenue to keep operating. Both types of homes have become popular causes for local ex-pat communities. These groups are always in need of volunteers and patrons.
8. Local Expat meetings
Atenas ex-pats have organized an annual chili cook-off. This cook-off has growing international renown to raise funds for the local children's home.  Some ex-pats have adopted the community in which they live and adopt or invent projects to promote, inform, or benefit the communities in which they reside.
9. Internations
There are also certain communities and professional groups such as Internations. They welcome professionals away from their home country. You'll be able to meet interesting business people at the Internations meetings.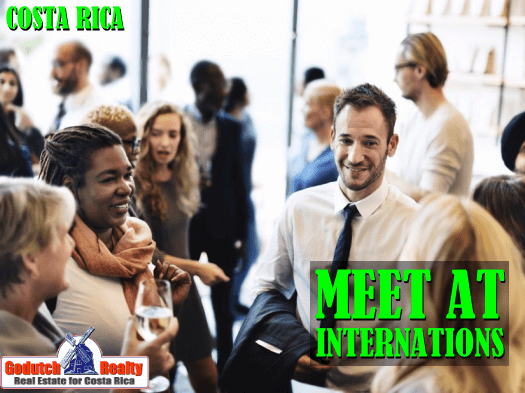 10. Community Service Organizations
If your Spanish is better than mine, you may even want to consider joining a local Lion's, Optimist's, Rotary, or similar club. When you make Costa Rica your home, it's not a bad idea to jump in and get involved. And, perhaps, be able to make a difference by investing some of your free time.
Just remember, it's illegal for non-citizens to get involved in Costa Rican politics. But honestly, with all the political chaos taking place back in the States remaining politically uninvolved sounds perfectly acceptable to me.
The Author
The author of this blog, Ticonuevo, is a US expat who moved to Costa Rica. Ticonuevo and his wife used the services of GoDutch Realty to purchase a property in Costa Rica. In his blogs, Ticonuevo describes his own experiences of taking the step of moving to Costa Rica and getting a new life started.
---
If you like this blog, subscribe to my newsletter by clicking the banner below.

I DO want to remind our readers that we appreciate any referrals you can send us. Also, please remember the GoDutch Realty agents when you talk about your home in Costa Rica, we appreciate it.