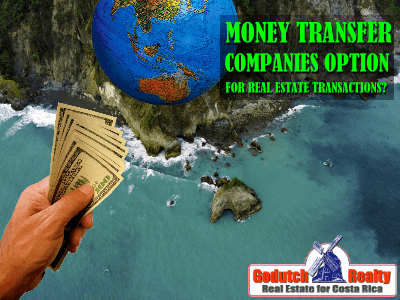 A money transfer is key to any international real estate transaction. It's no secret that traditional banks are dinosaurs in the modern economy. Although banks still have an important function in our society, tons of fintech start-ups have begun providing financial services. Although they provide these services in a more modern and efficient way.
When buying a property in Costa Rica when you have your funds in another country, a money transfer is vital. We do recommend wiring large sums for a real estate transaction to an escrow company, for easy handling of legal documents.  If you are not a legal resident yet, you might have problems opening a bank account here. In that case, you are allowed to open a simplified bank account, for a max of $1,000/month. This might not be enough to make your monthly payments. You can now benefit from using a more modern alternative than banks provide.
As an expat purchasing a property in Costa Rica, an international money transfer can be as easy as you'd want it to be. Banks are infamous for their approach to foreign exchange. They make it difficult by requiring long waiting times for your money to come through. They charge high fees on any transfer you make. And they also charge hidden fees by always giving you an exchange rate that benefits them.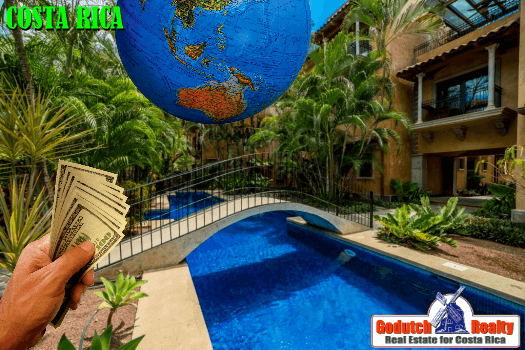 Money transfer companies are an important factor in financial health when living in between countries or as an expat. But it is when it comes to business that they become major money savers.
If you are planning on going into international real estate by buying a property in Costa Rica, you will be sending huge sums of money overseas. Bank's international wire fees don't come cheap. If you have to exchange from your country's currency to US dollars, you might lose a significant amount due to a bad exchange rate.
Before you start sending massive sums of money to buy your perfect property, find the right company to carry out your international money transfers (non-banks) now.
Your monthly payments
Sending a big lump sum overseas using money transfer companies saves on fees and exchange rates. However, it is when it comes to monthly payments that money transfer companies become a regular part of your life.
Also, if you have to make monthly payments of your utility bills, a monthly money transfer might be your solution. Also, if you bought a property with owner financing, for example, and you are sending a fixed sum every month, not only will a transfer company save you on the abovementioned fees, but they will also give you the option for forwarding contracts. This means you set a current exchange rate for your future transfers.
While this does mean you won't benefit from any sudden dips in the foreign currency, it also ensures you won't be paying more than you bargained for if the other currency begins to strengthen. You know exactly what you will be paying, which is hugely important when it comes to bond or mortgage payments.
Optimizing your income
Let's say you have a rental income investment property in Costa Rica. When you set your rates, you are taking the exchange rate and fees into account. When you go through a bank, you find that you are earning significantly less than you bargained for. Money transfer companies ensure you get the best exchange rate and fees. They will even fix the exchange rate for you if you use forward contracts for hedging.
A multi-currency account can be attractive in use when you must manage different currencies. You might not want your rental income to come straight through to your local account every month. On the contrary, you may well need money in Costa Rica to take care of maintenance issues for your tenants. You'll also be able to benefit if you travel a lot.
Furthermore, if you do business with people from all over the world, having a multi-currency account is crucial. Your property in Costa Rica may not have permanent residents, but Airbnb visitors. You can receive their various foreign currencies in one account and make the best decision about the currency depending on where you are in the world.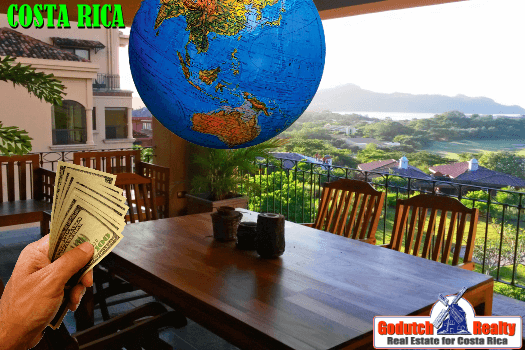 The benefits of owning property abroad
Money transfer companies ease the process of global real estate investment. There is good reason to believe that real estate around the world is a fantastic investment once we have normalized the Covid 19 situation again.
Owning international real estate does not only allow you great income renting to tenants or tourists. It also provides you with the ability to take up opportunities in other countries. This is especially true when it comes to developing nations, where major growth is possible if you are savvy with your investment choices.
International property can also be a route towards residency. While you may not be ready to live overseas now, you may decide a change is in order in a few years from now. By owning a property in Costa Rica of at least $200,000 you can do so with ease.
International money transfer companies
International money transfer companies facilitate property investment around the world. You no longer have to worry about slow bank transactions that come with high basic fees as well as hidden fees.
Owning property internationally, in countries like Costa Rica, provides many opportunities to grow your money. It is worthwhile getting involved. At the very least, you will have a vacation home in one of the most beautiful places in the world. Contact us now, we're the property experts in the Central Valley.
---
If you like this blog, connect with me on Google+ or subscribe to my newsletter by clicking the banner below.

I DO want to remind our readers that we appreciate any referrals you can send us. Please remember the GoDutch Realty agents when you talk about your home in Costa Rica, we appreciate it.